6: Getting Social
10th January, 2022 11:47
The weather has been pretty poor here in the UK for the last week so I had a quiet weekend. I did go out for a short walk whilst the rain stopped briefly but other than that I was sheltered inside in the warm.
I had time to think more on how I will eventually market Puzzlebouts, and two things I'm pretty sure I will need are a Twitter and a YouTube account.
I've had a personal Twitter account since 2009. Ha, that makes me laugh I really hadn't realised it had been that long. For most of that time I have rarely used it to be honest, until probably about 6 months ago when I started following a few more people in the tech sphere.
I'm following 55 accounts and I have amassed a grand total of 41 followers! I figure going forward I won't want to be corrupting my personal account with Puzzlebout's content, other than maybe directing or announcing some Puzzlebout's information.
So, I've created a brand new Twitter account @puzzlebouts. Not following anyone yet and no followers. :-)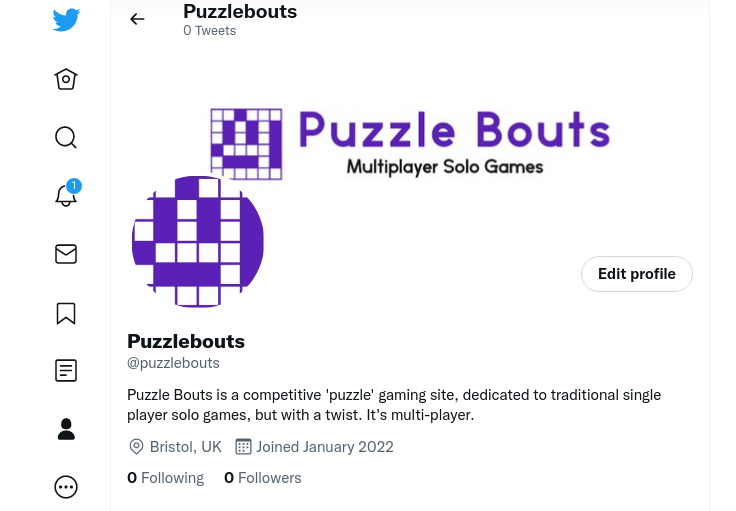 Gotta start somewhere right. I hope I look back on this post some day to remember. I see so many posts on Twitter where people have seemingly got 1000's of followers out of nowhere, so there must be some secret sauce to it. I'm quite excited to have an official Puzzle Bouts presence.
In a similar vein, I have had a YouTube personal account for many many years. The site does not seem to have a joining date listed anywhere for me to be sure of the date, but YouTube started in February 2005 apparently. Maybe I joined around the same time as I joined Twitter. Around 2009.
Unlike Twitter, I have always been a big YouTube user. I've paid for the Premium service on a number of occasions to not see ads.
Although I've got a formal Computer Science education, I can honestly say I've learnt more from the YouTube tech community than anywhere else. There are some great creators on there.
Once I'm ready the launch I definitely want to include videos of how to use the site as part of an FAQ section at least, but it also could be great to do some live streams to show people how to play in real time.
That's probably quite some way in the future yet, though. First I need a channel. So I've created one this morning.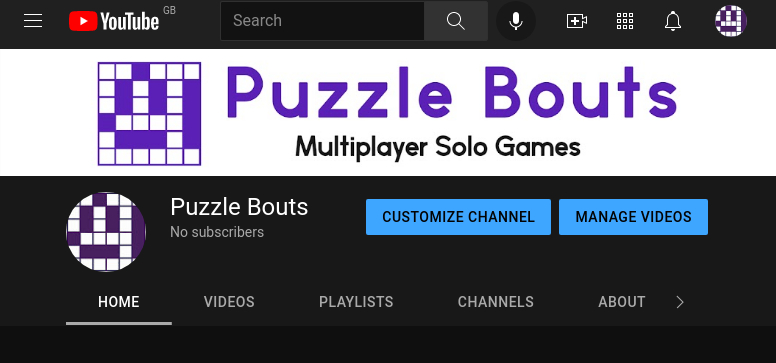 I've always fancied having a YouTube channel to teach some tech things I know, so this might spur me on to create another one.
I mustn't get too side-tracked though as there is still plenty to do to get Puzzlebouts launched.
See you later.